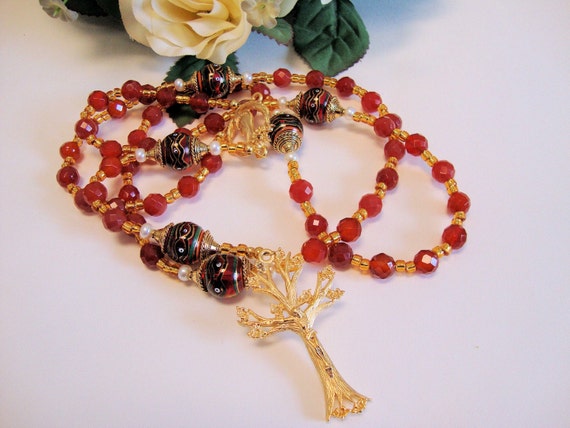 This rosary is made of 8mm faceted deep carnelian beads. Carnelian can be several colors from orange to deep red, and I would say that these are right in the middle. The faceting makes them sparkle with movement, and this rosary is made and meant to be an heirloom.
Carnelian is one of the birthstones listed in the ancient Arabic, Hebrew, Italian and Roman tables and is a Zodiac birthstone for the signs of Leo and Virgo.
Carnelian is a form of chalcedony, a member of the quartz
and most carnelian is heat treated to bring out its color.
For the Pater beads I chose red gypsy beads. They are a very deep red and are hand painted. They make a lovely contrast against the carnelian. Please use the zoom feature on the picture of the crucifix to get a good look at the detail of these beads.
Each Pater bead in enclosed by a pewter bead cap with a tiny button pearl on each end.
The crucifix and center are parts of a set called Dogwood and are pewter. The crucifix is substantial measuring 2 1/8 inches long.
This is a beautiful piece and meant to last for a lifetime and then some. Please see my policy page about warranty on my work. I guarantee my workmanship for the life of the rosary. Please visit my shop for more rosaries: www.indylin.com