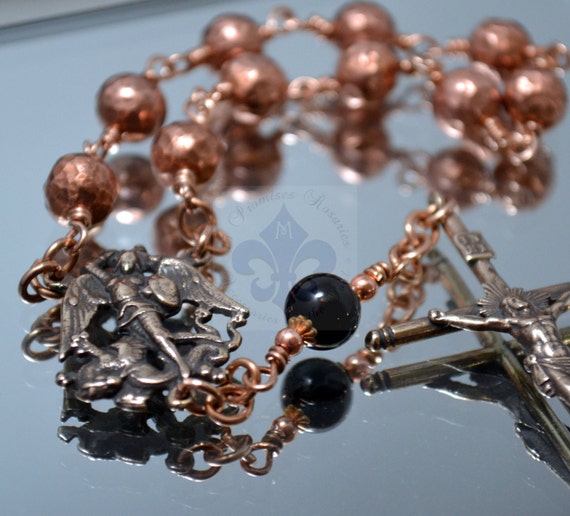 St. Michael Copper, Onyx, and Bronze Handmade Pocket Rosary
Brought to you by 15 Promises Rosaries
St. Michael is the patron of our beloved law enforcement and military heroes.
This pocket rosary is handmade with heirloom durability in mind. It is an unusual piece and I cannot reorder the artist-crafted hand-hammered copper beads, which are solid 8mm and have pleasing heft. This little rosary weighs 1.25 oz. (36 grams). Each bead is wirewrapped in solid bronze and has complete solid construction, chain, and rosary set.

The rosary set is substantial. The 2.25" (~58mm) crucifix and 1" (~25mm) St. Michael the Archangel center are solid bronze and are hand cast from well-loved antique originals. The Our Father bead set is wirewrapped 8mm onyx with bronze bead caps and copper accents. Tip to tip, the rosary is 8.75" (~22cm). This 15 Promises handmade rosary is one of a kind.